Service design approach to improve the end-to-end experience of customers, employees, and vendors during the professional installation of Verizon Connect's fleet management hardware.

OVERVIEW
Verizon Connect provides fleet management hardware and software to help businesses track vehicles and assets in the field, improve fleet operations, increase worker productivity, and encourage safer driving. After merging three telematics companies – Networkfleet, Telogis, and Fleetmatics – Verizon Connect faced the challenge of consolidating multiple processes and systems for the professional installation and management of its hardware.
MY ROLE
As a member of the Verizon Connect hardware experience team, I led service design efforts for Professional Installation in order to improve the end-to-end experience of customers, employees, and vendors. I focused on identifying opportunities to unify processes and increase system efficiencies in collaboration with both internal and external stakeholders. This entailed identifying improvements to decrease days to install and install time, ensure proper installation and functioning of devices, support accurate dissemination of information and data, reduce redundancy, and increase reliability.
METHODOLOGIES
Heuristic Evaluation, Design Assessment, Competitive Analysis, User Interviews, Observation, Usability Testing, Concept Testing, Service Blueprint Mapping
TOOLS
Sketch, InVision, Miro, Google Meet
---
DISCOVERY
Leadership from hardware product management requested a task force to investigate and recommend solutions to improve Professional Installation. To this end, the hardware experience team was established; consisting of myself as UX Lead, a UX Designer, and a UX Researcher. As a first initiative, our team was asked to focus on improvements to the VZ Check App used by the professional installers.
---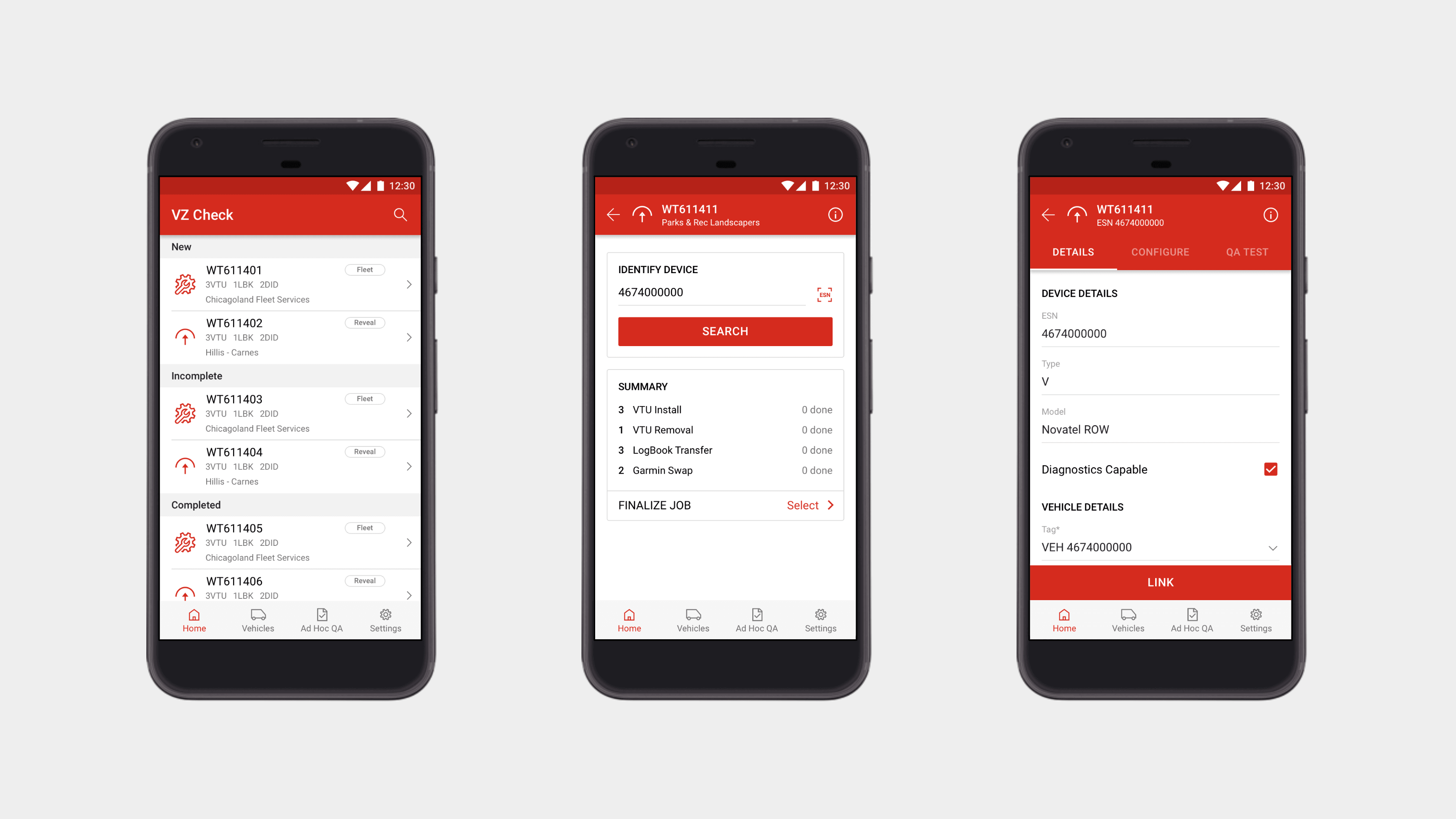 VZ Check App
App used in the field by Installation Technician to document vehicle information, link devices to the vehicle, and perform QA diagnostics to ensure the device is working properly.
---
To begin, I worked with the researcher on our team to conduct Process Interviews with the installation vendors to get a better understanding of their current usage of the VZ Check app, business practices, and relationship with Verizon Connect (VZC). We also conducted process interviews with internal stakeholders across various business units (sales, scheduling, etc.) to identify their needs and pain points.
Following these interviews, the researcher on the team also conducted Site Visits to observe installations in progress.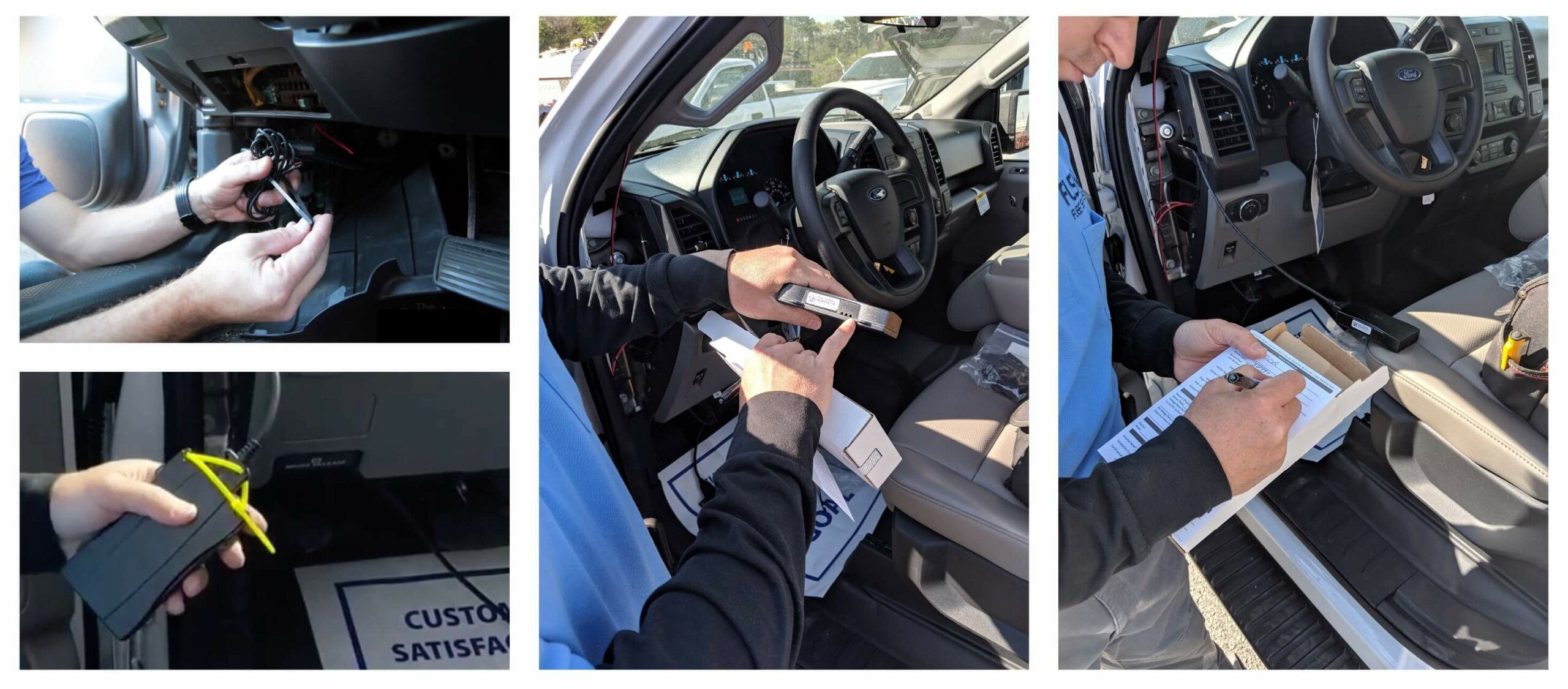 During this time, I reviewed the Installation Customer Satisfaction (CSAT) data and previous research to categorize pain points related to the installation process.
---
PAIN POINTS
The pain point categories helped to define the problems our stakeholders faced and framed the direction of our approach.
Scheduling
Shipping
Customer Service
Support + Training
Productivity
Invoicing + Payment
---
Based on findings from the user interviews, site visits, and previous research, I identified 5 different Professional Install Roles and mapped their workflows; highlighting pain points in their processes. My team then proceeded to create personas and value prop maps for each of the roles to define their values and needs.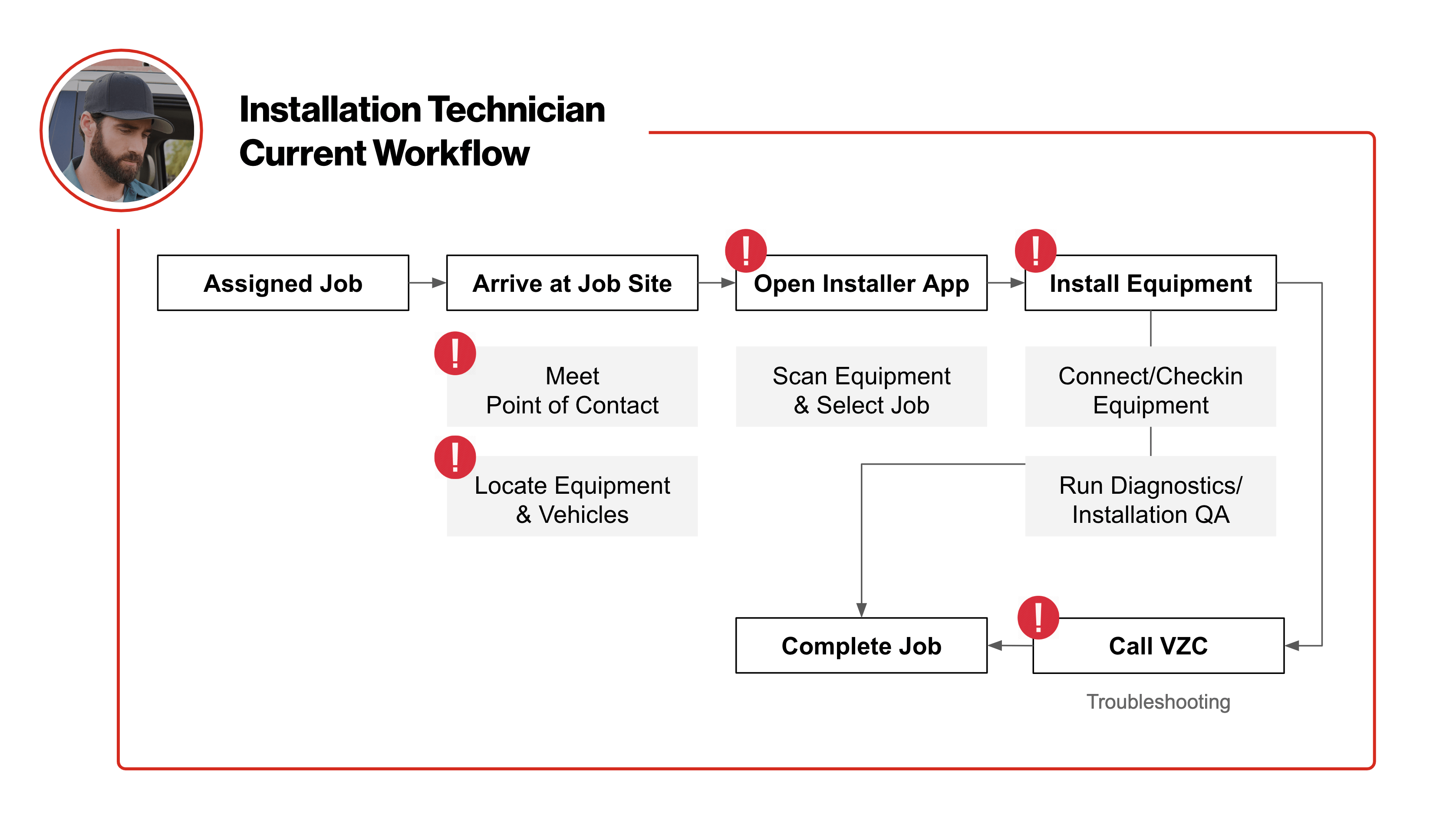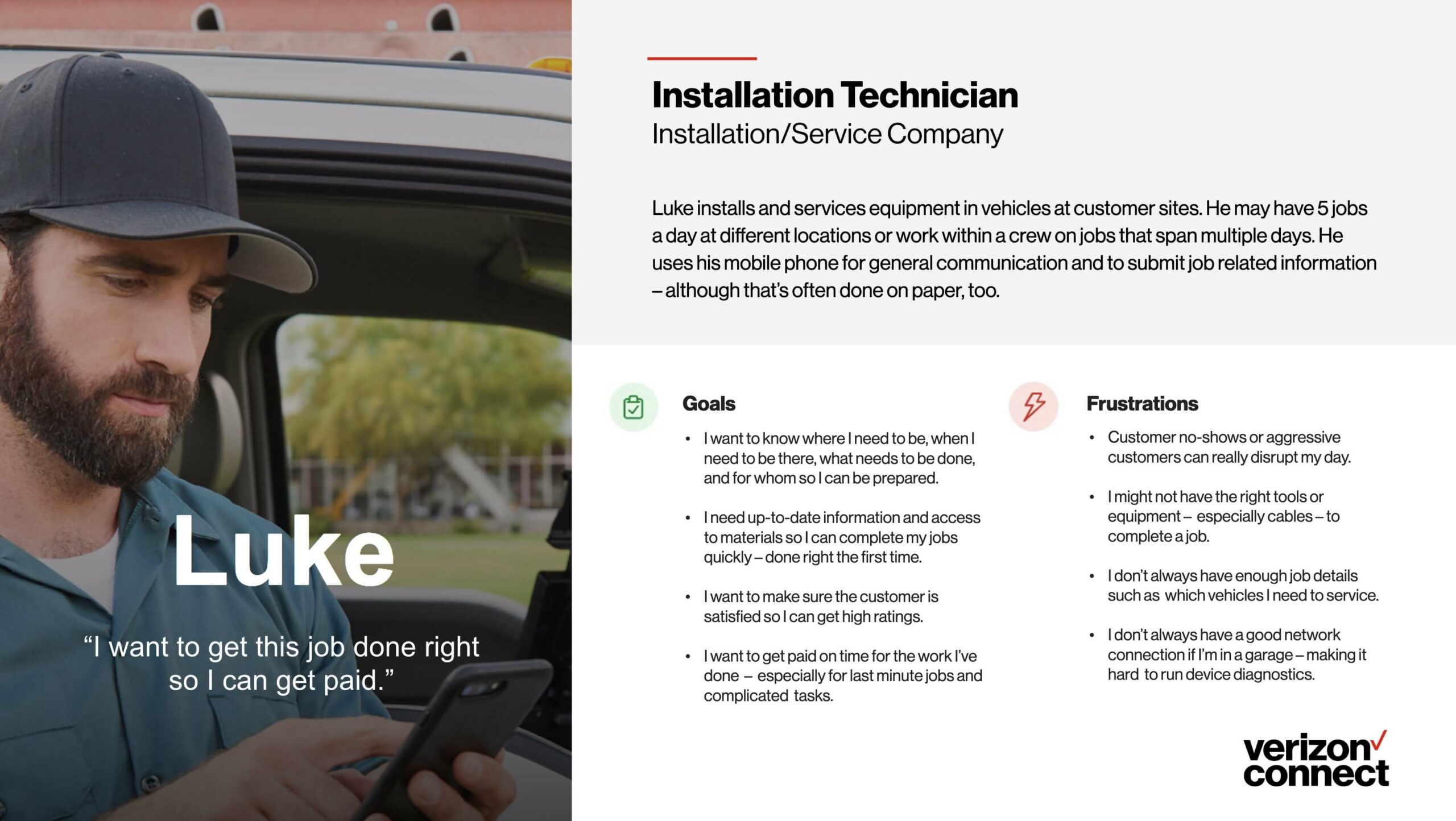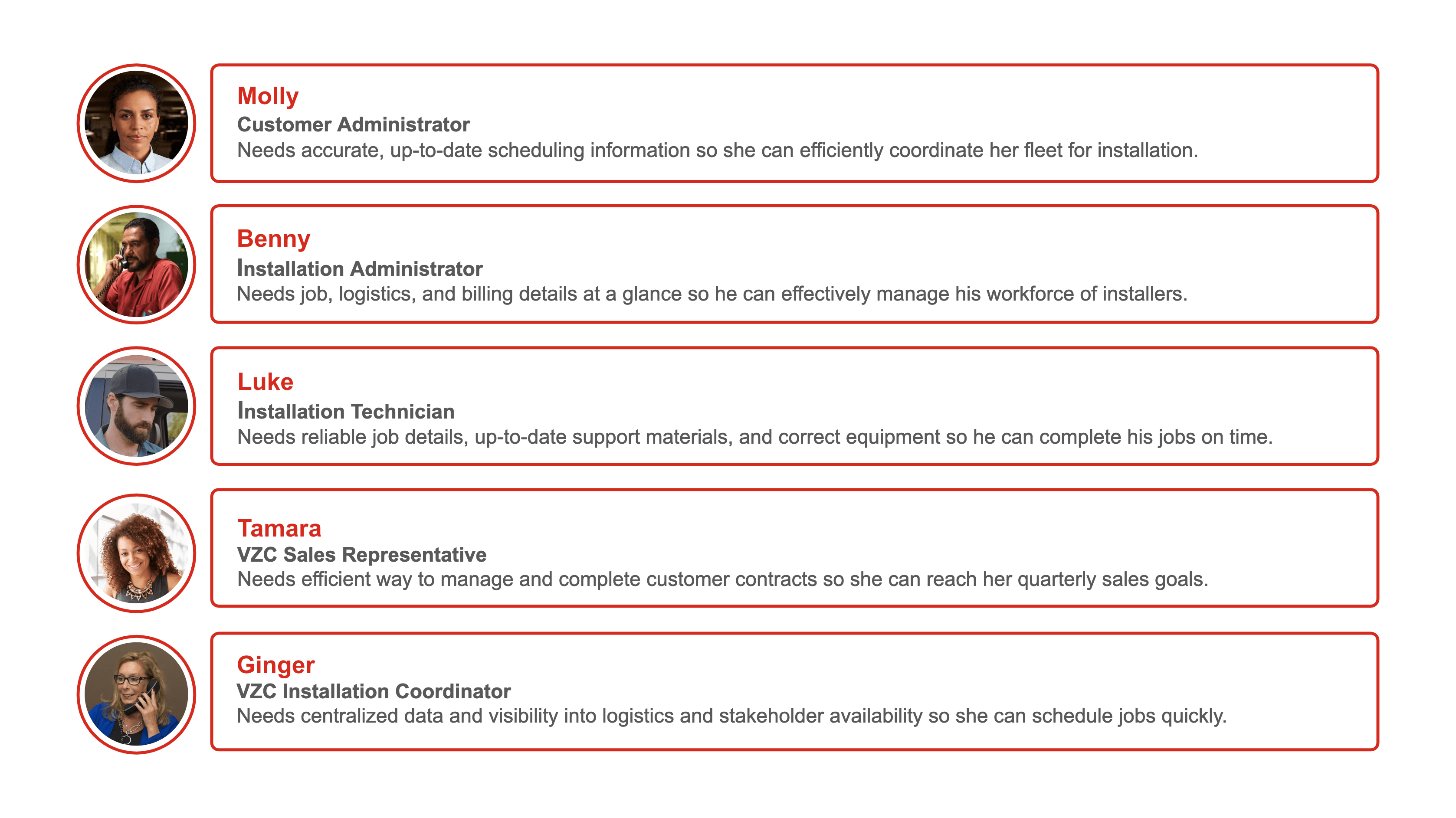 ---
To supplement our findings, my team and I also conducted a holistic review of professional installation which included:
Heuristic Evaluations of the current installations tools used by VZC employees and the installation vendors
Design Assessments of other professional installation services to identify any best practices
Competitive Analysis of installation processes in the telematics industry to identify differentiators and opportunities
---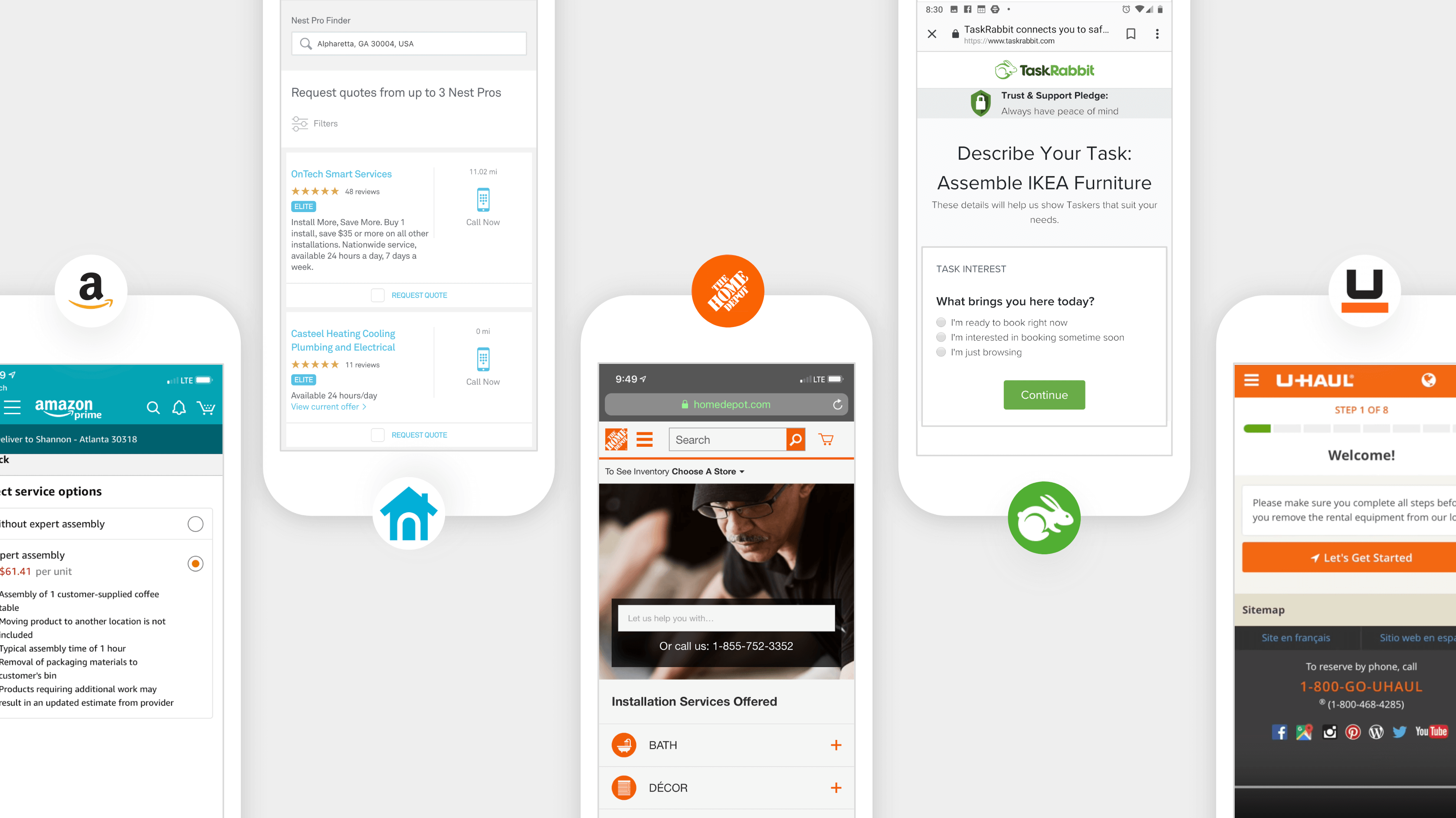 Design Assessment Takeaways
Separate apps for end users and installers
Scheduling handled by end users and installers
Scheduling occurs only once end user has product
---
We used Storyboarding to visualize the improved installation experience highlighting system integrations, access to vital information, reliable training and support resources, and customer reminders.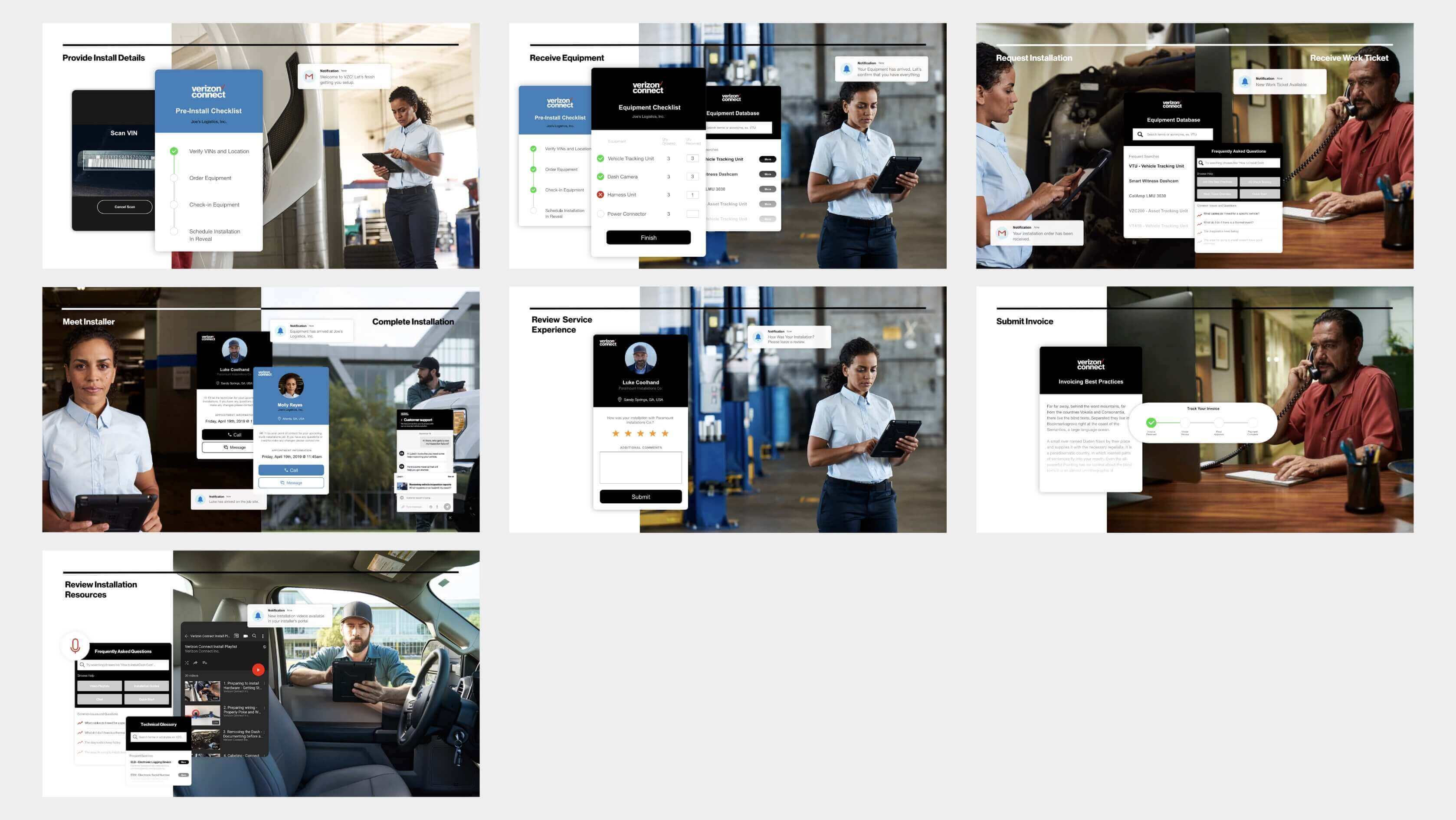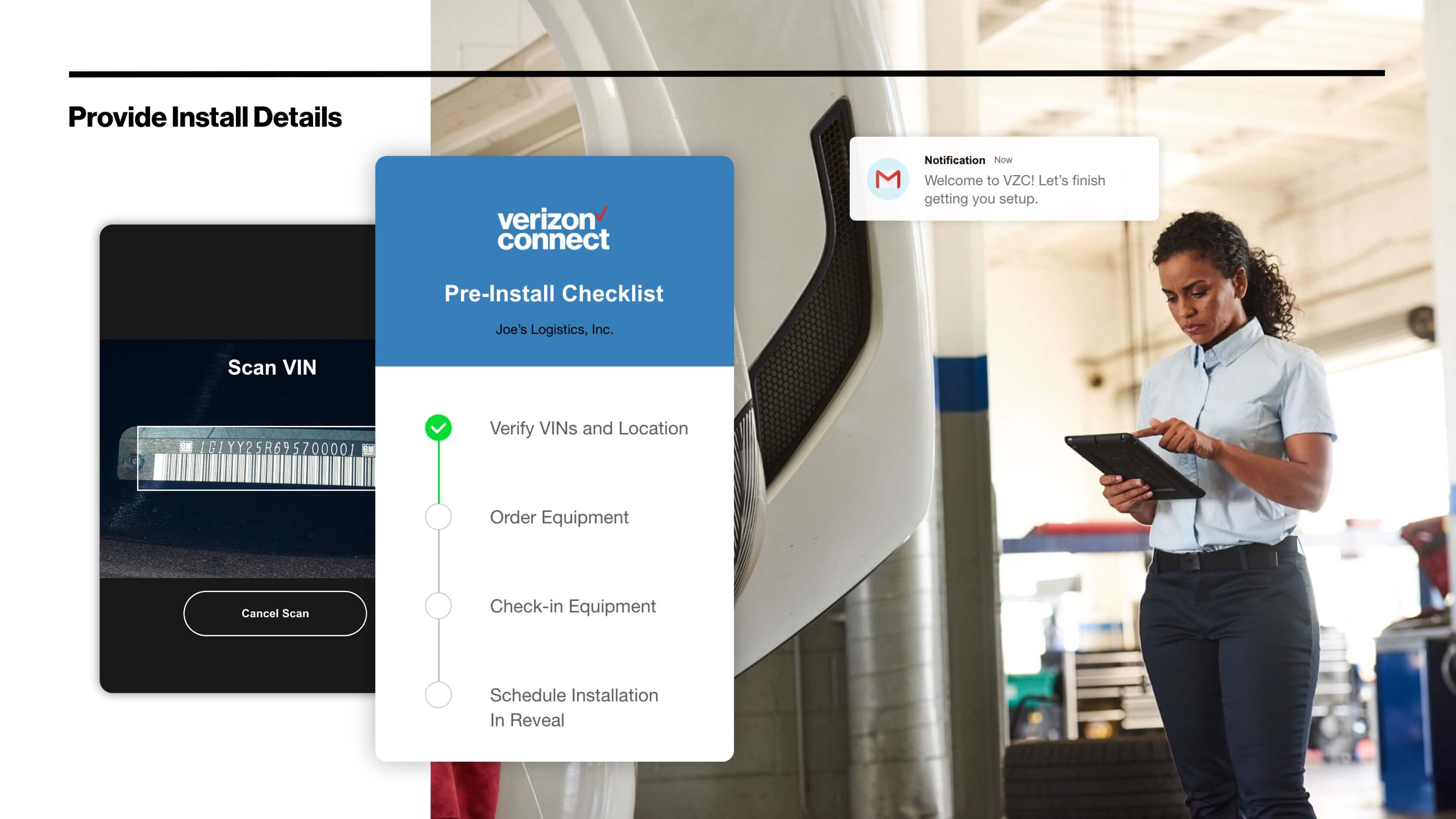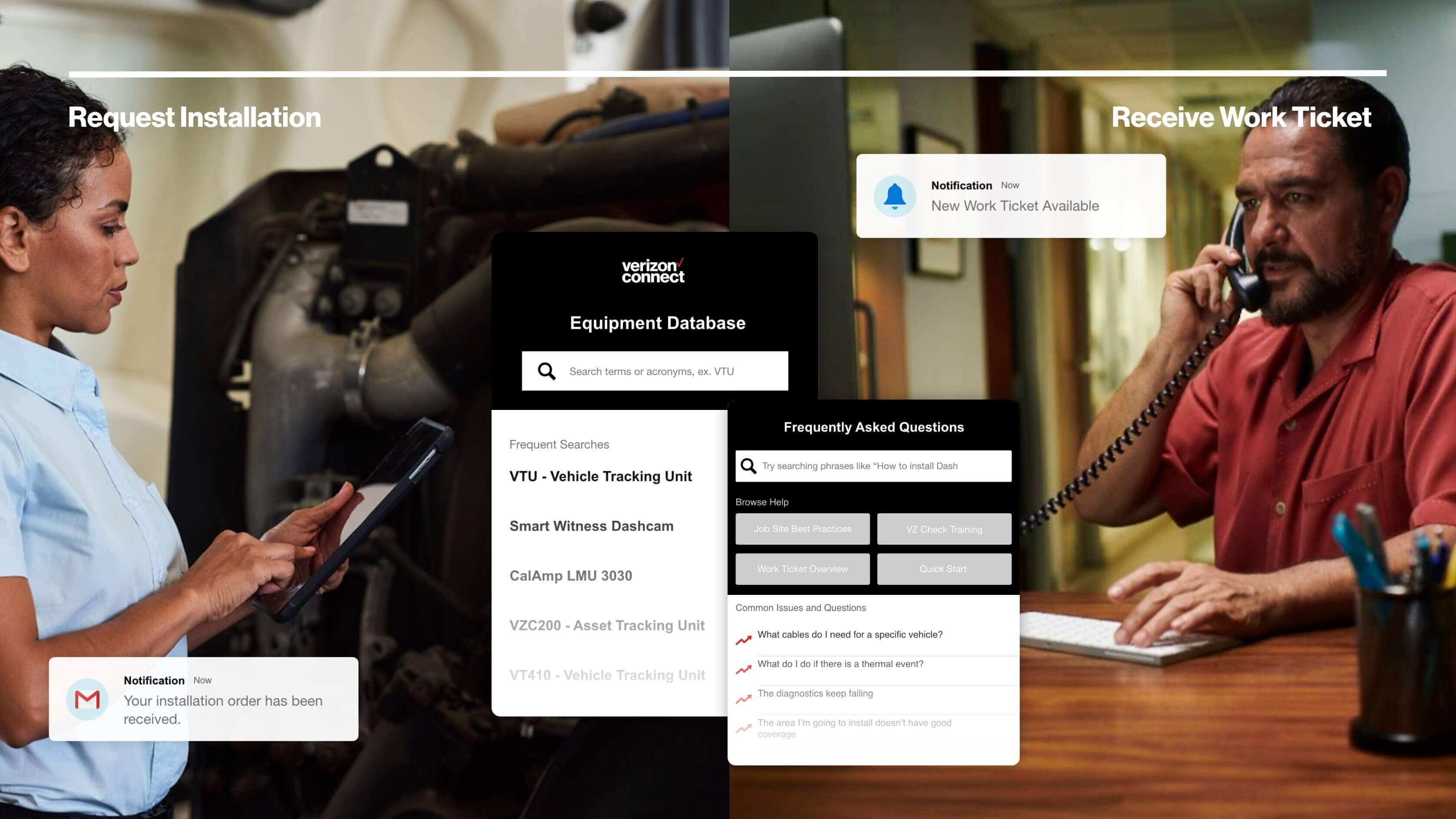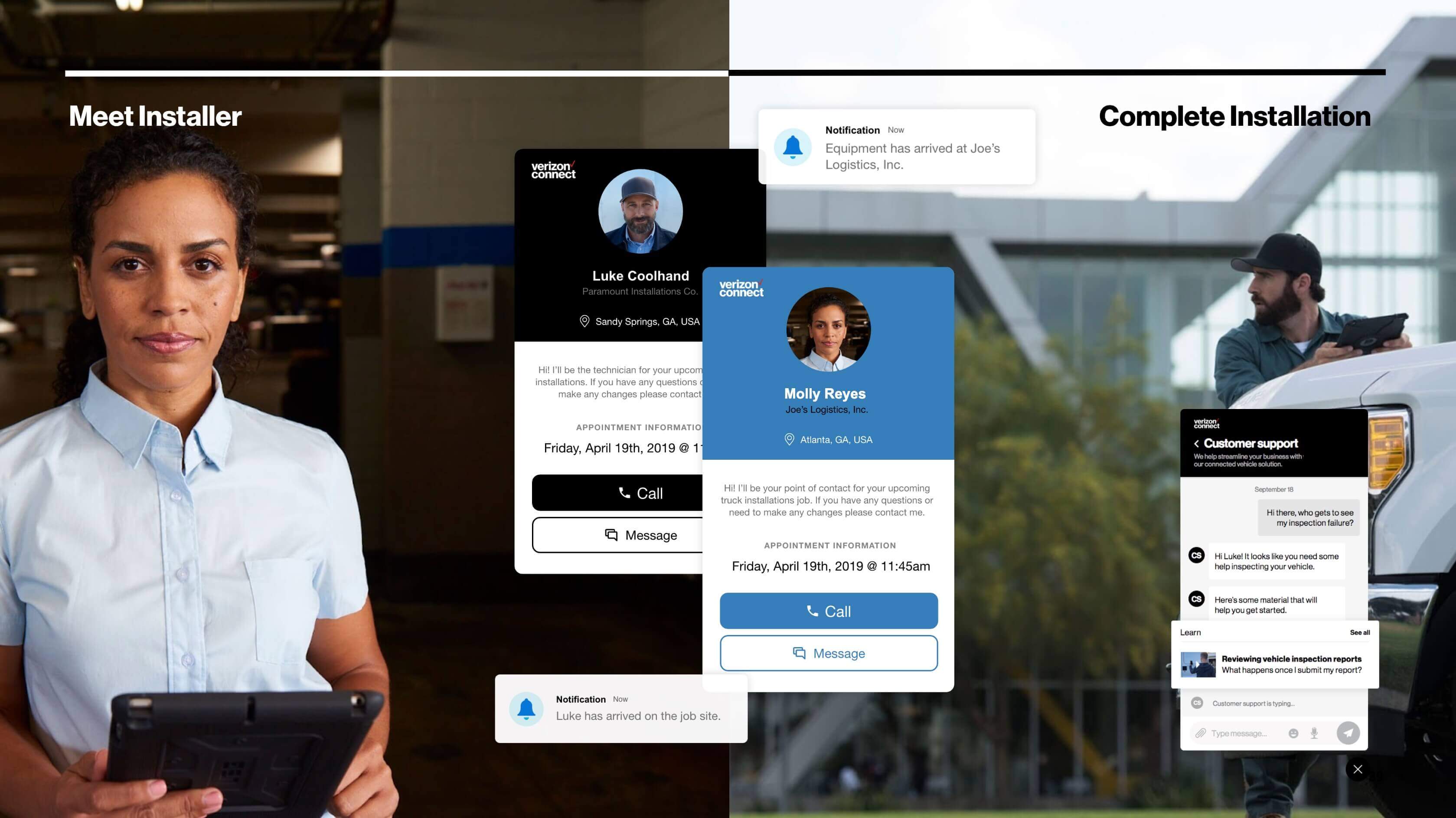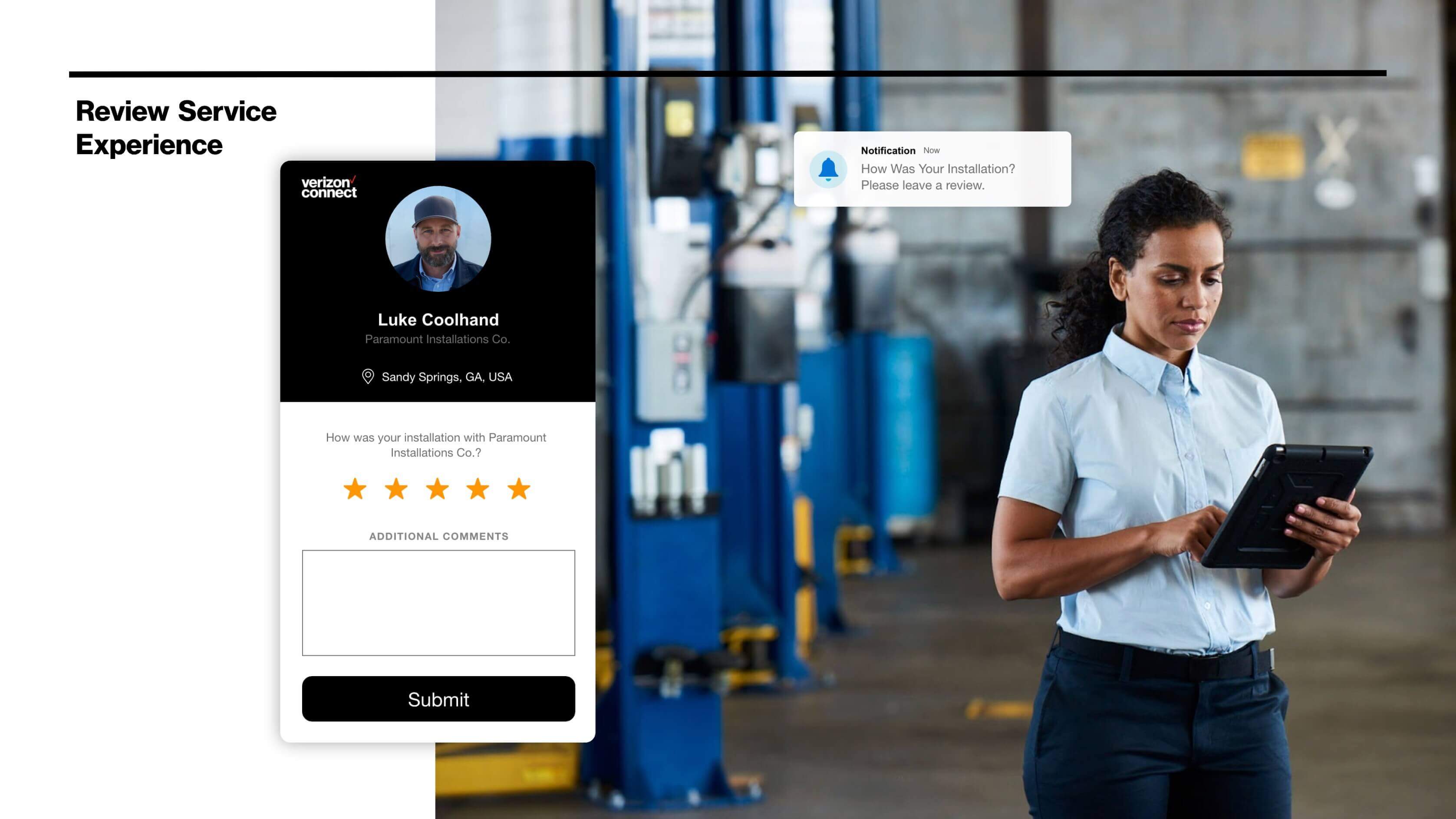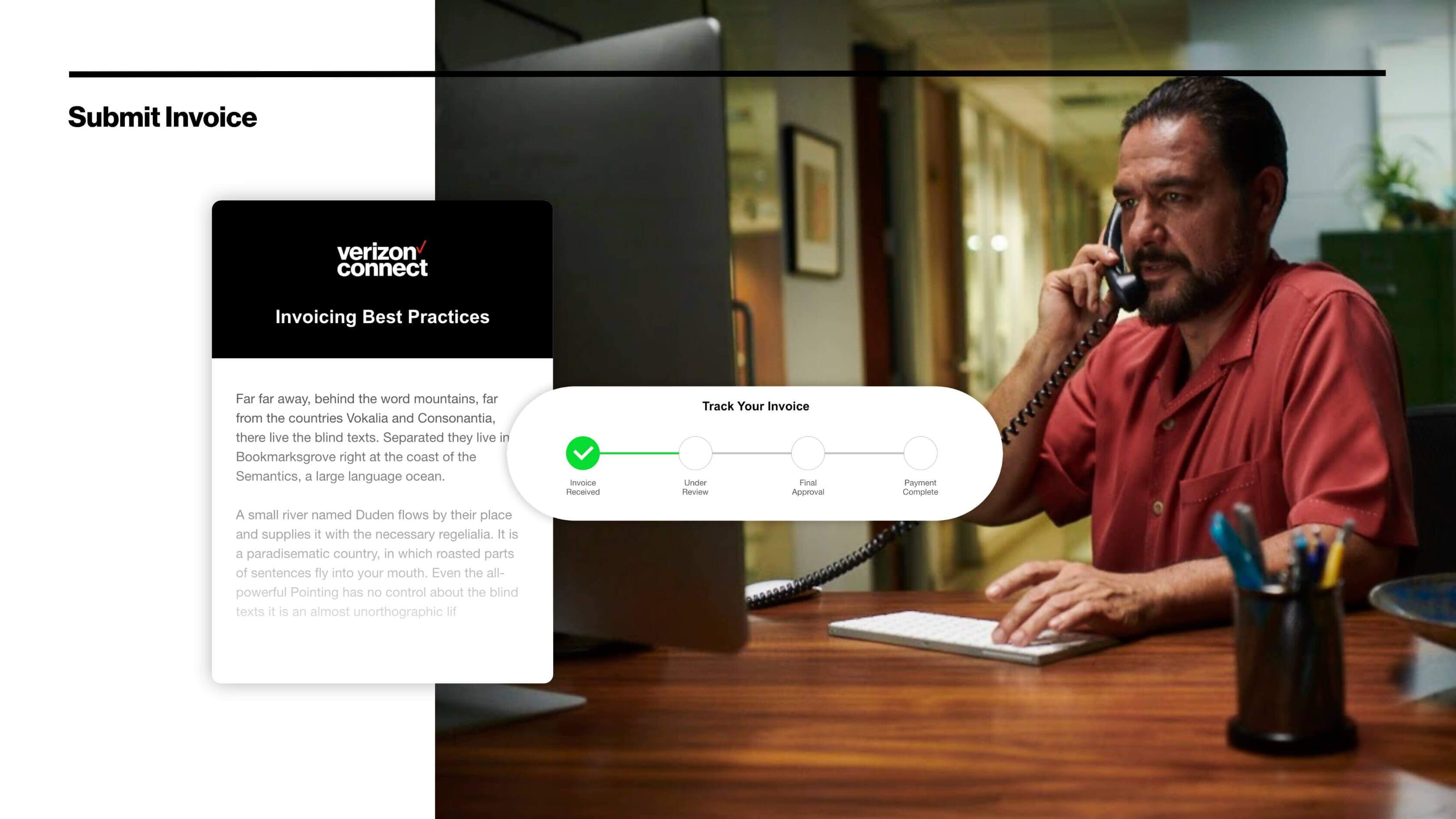 VZC_ProInstall_Storyboard2
Swipe to view storyboard.
---
USABILITY TESTING
To understand from the user perspective, my team and I conducted usability testing of the VZ Check App – following up with vendors we previously spoke to during the process interviews.
Findings from the testing identified some key areas of improvement for the usability and usefulness of the app. We leveraged a Rainbow Sheet to document task completion, observations, and behavioral patterns.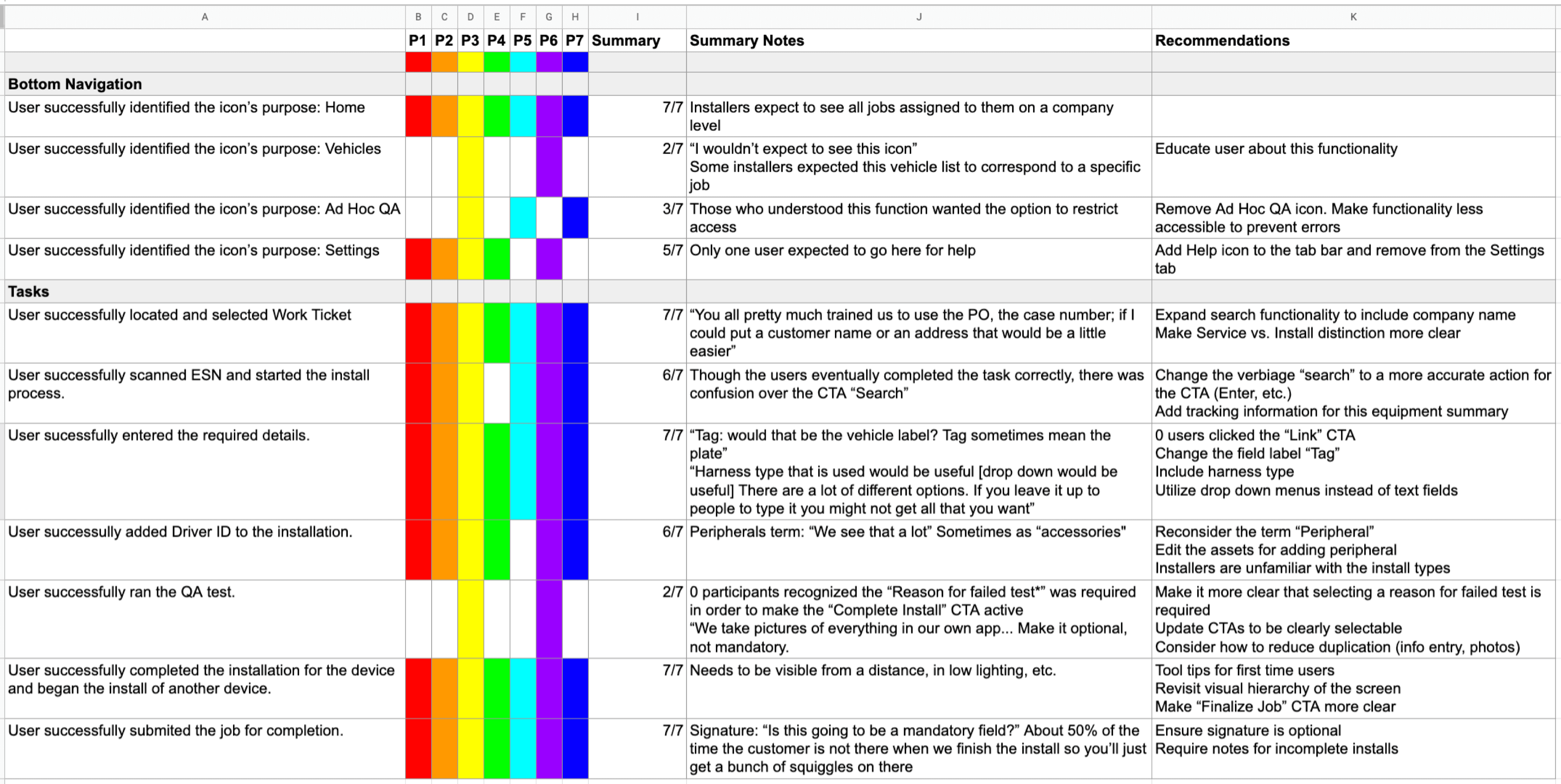 ---
The feedback from testing was shared with our stakeholders. Based on our findings, Prioritized Improvements to the VZ Check App were added to the product backlog.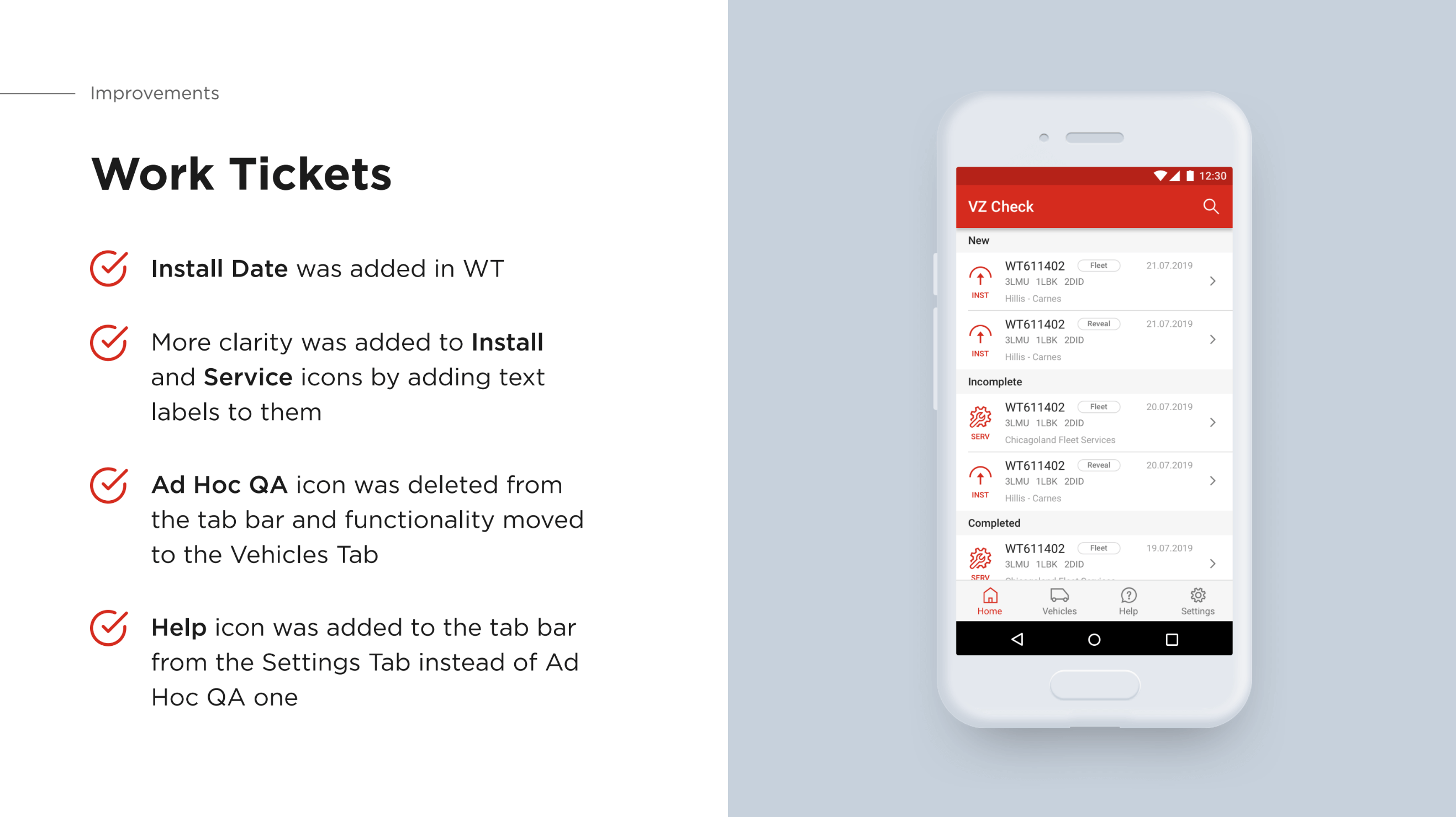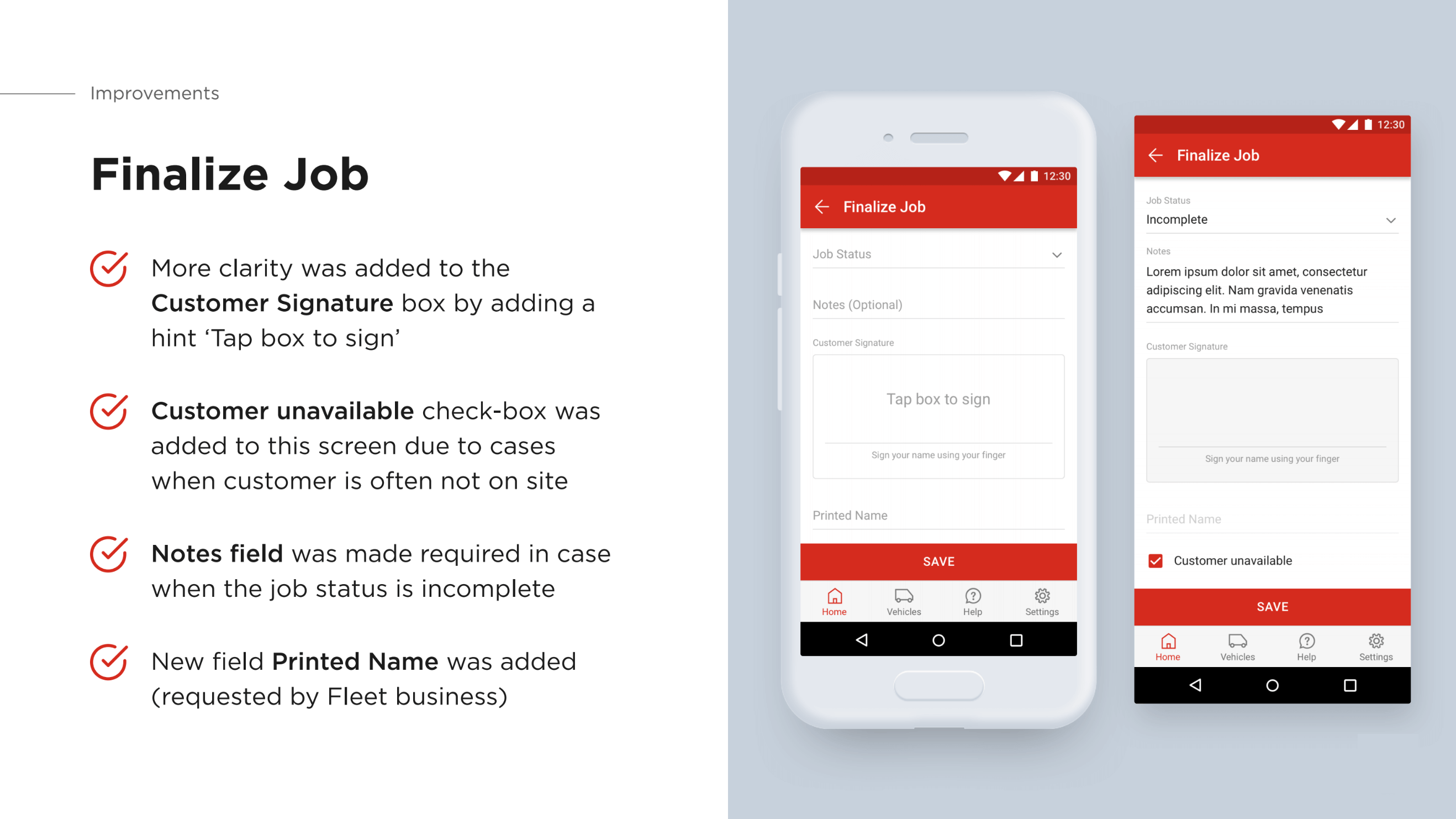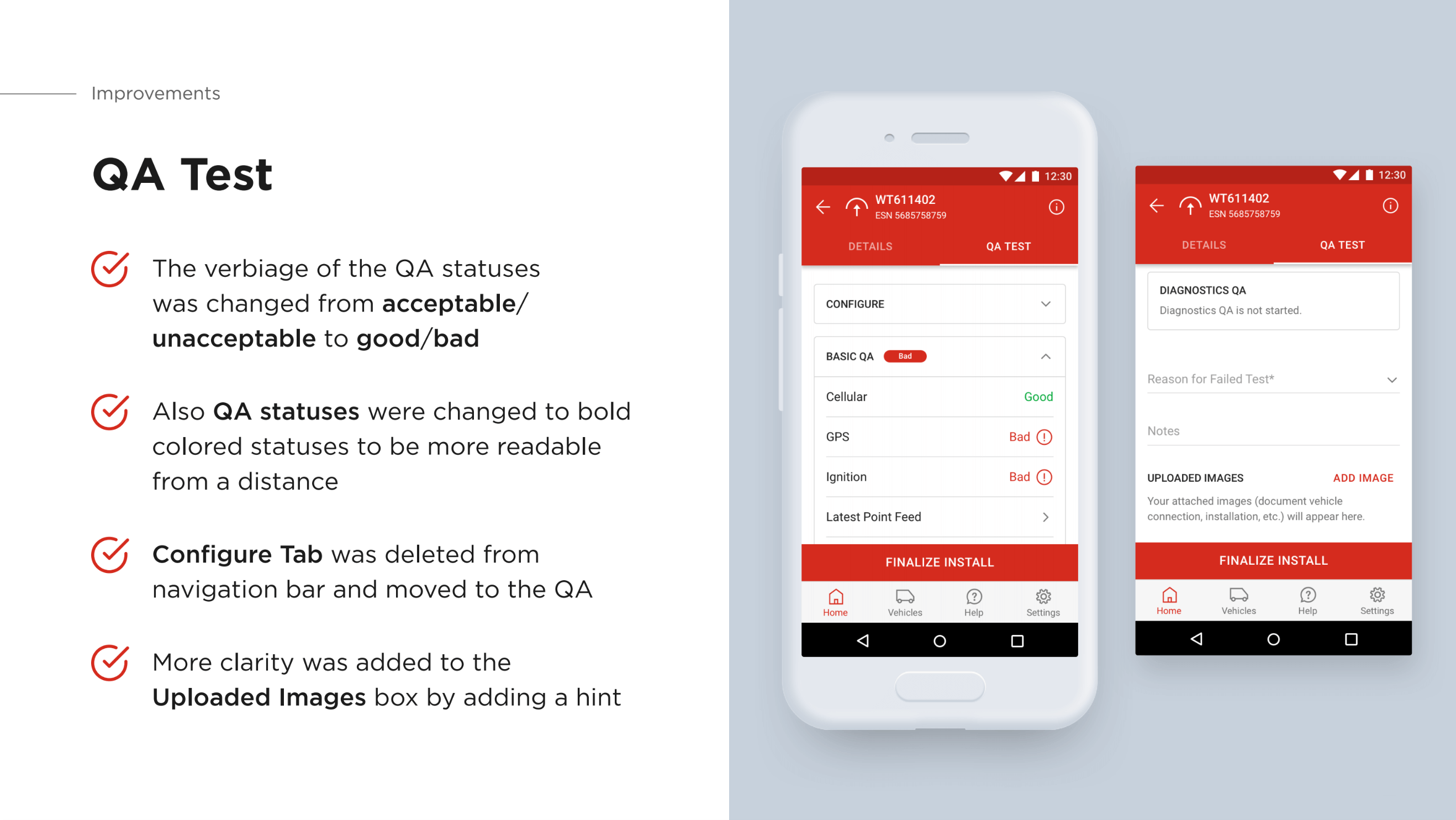 ---
CONCEPT TESTING
The initial ask for the project was to improve professional installation through the lens of the VZ Check App used by the professional installers. However, after diving in, we quickly realized that the problem was larger than just the usability of the VZ Check app.
To help identify solutions, we created concepts based on feedback from the vendors and tested these during our sessions as well. These concepts focused on making enhancements to the VZ Check Web Portal in order to improve processes before and after the vendor goes on-site to install the hardware for the customer.
---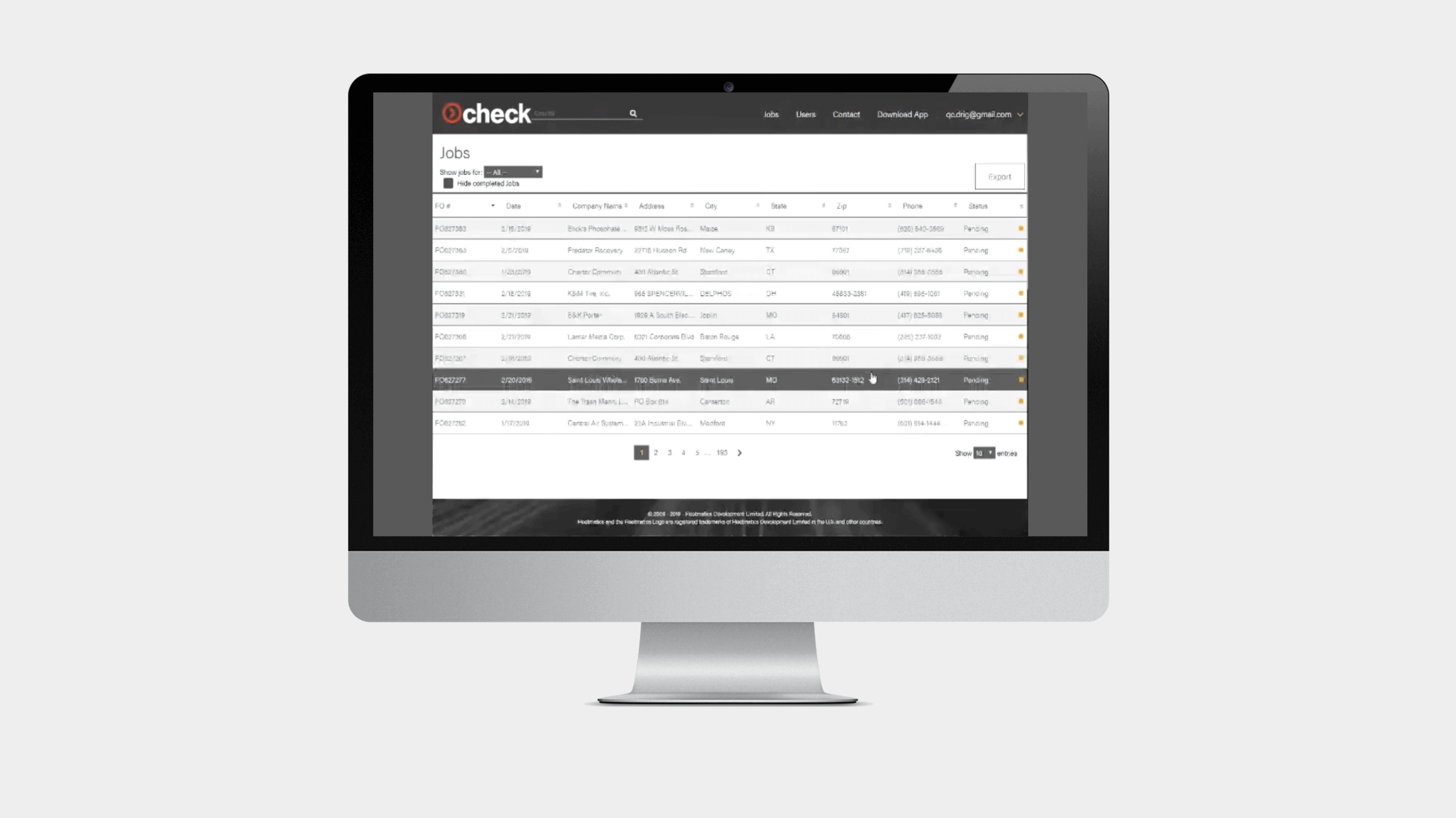 VZ Check Web Portal
Web Portal used by Installation Admininstrator to view job status, export job details, and manage users (technicians).
---
I opted to show Concept Statements instead of visual concepts to ensure the installers focused on the ideas behind the concepts rather than the execution. We were able to draw feedback that added further context to support many of our concepts as well as highlight the ones that did not align with installer preferences.
---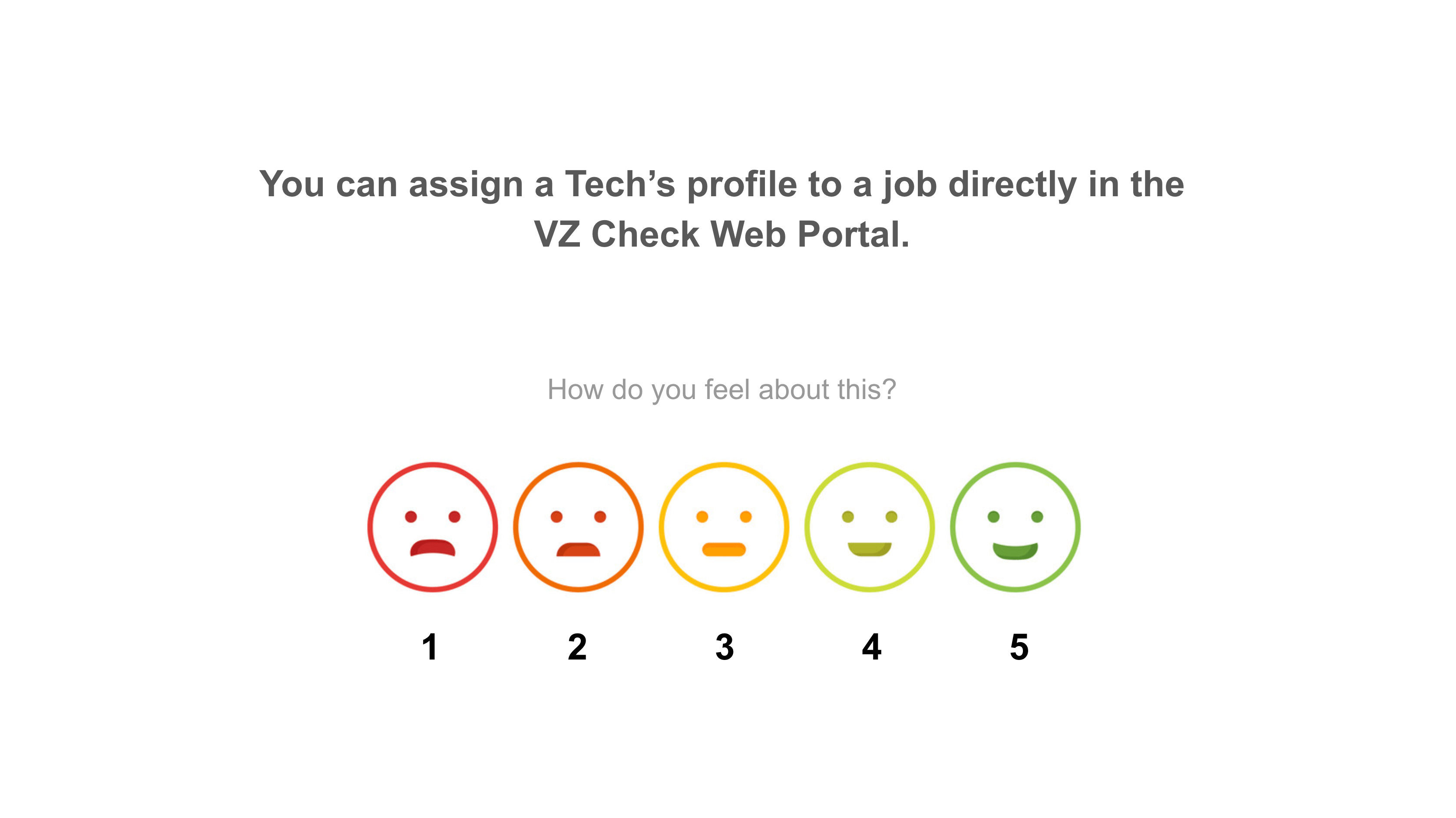 Rating the Concepts
Installers were presented a series of concept statements with each focusing on a specific need or benefit. They were asked to rate their perception of the concepts and explain why they choose the rating.
---
From the concepts, we also created digitized sketches to convey the user journey of the installation administrator and to illustrate the connection between the systems.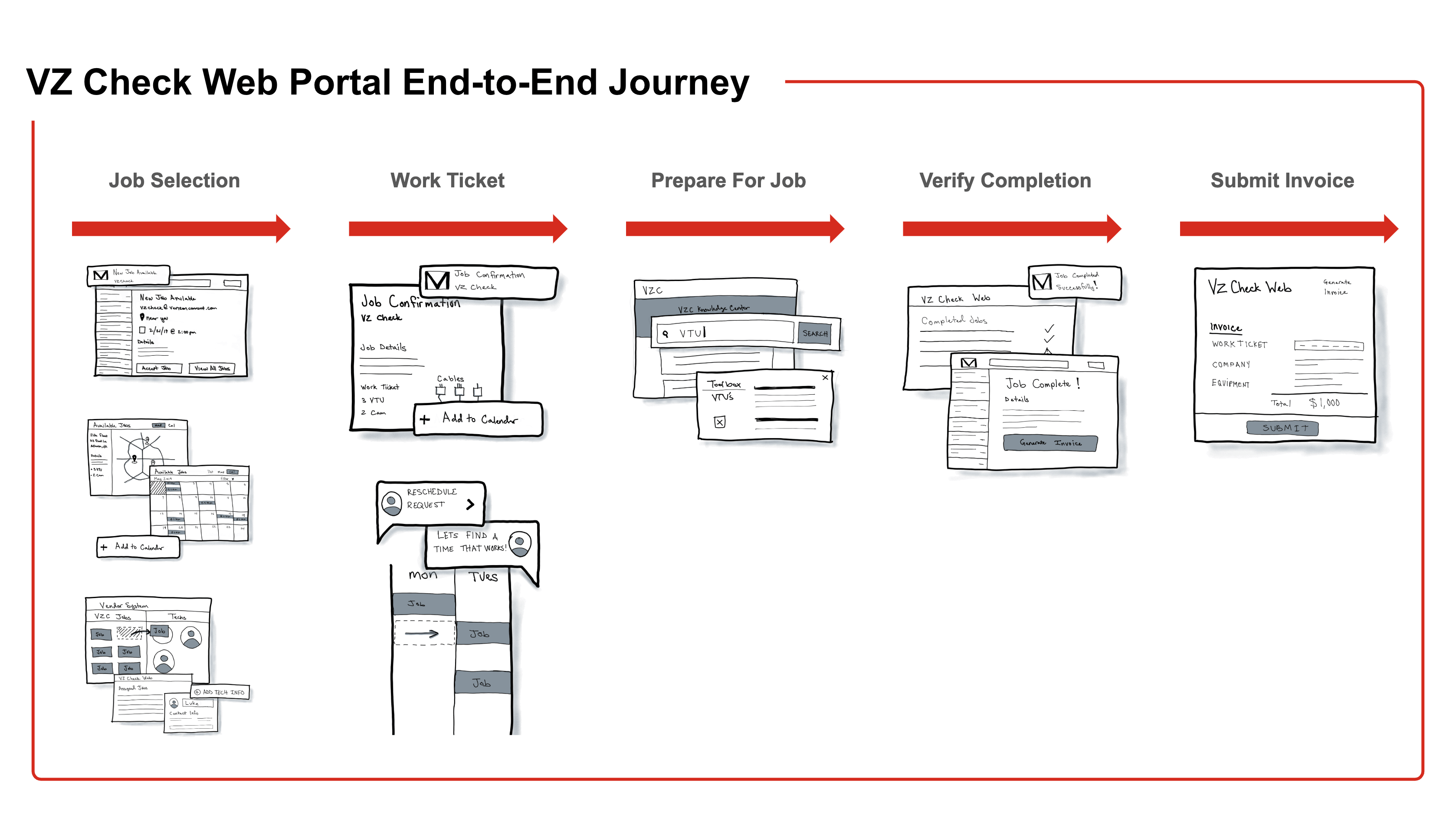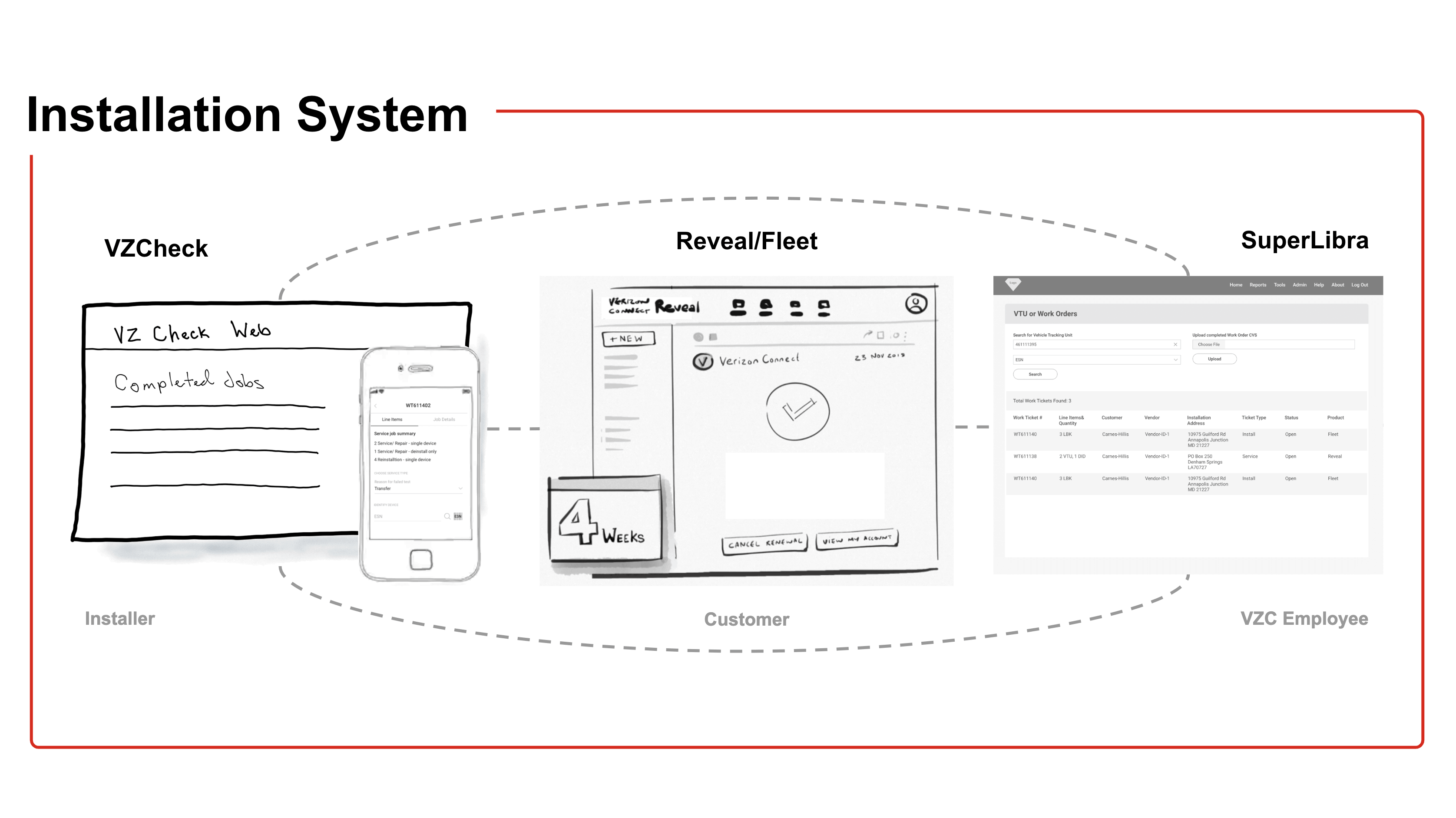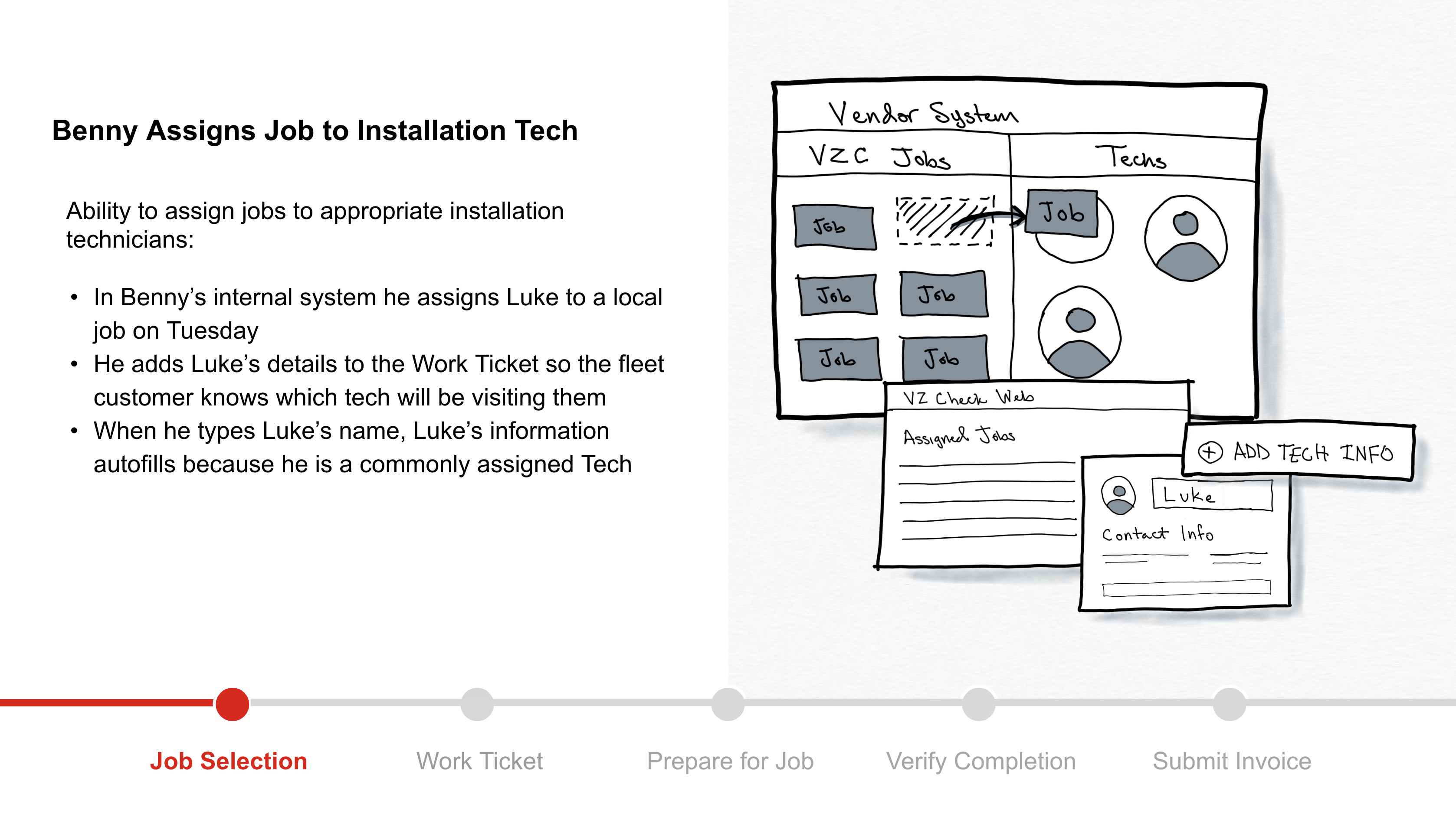 ---
SERVICE MAPPING
To capture the end-to-end process, my team and I compiled a service map of the current installation workflow. From there, we mapped a north-star workflow based on our recommendations which featured enhancements in the following areas:
Customer Touch Points to educate, inform, and support
System Automation to reduce manual processes and redundancy
Information Sharing & Continuity to support accurate dissemination of information and data
Installation Protocol to ensure proper installation and functioning of devices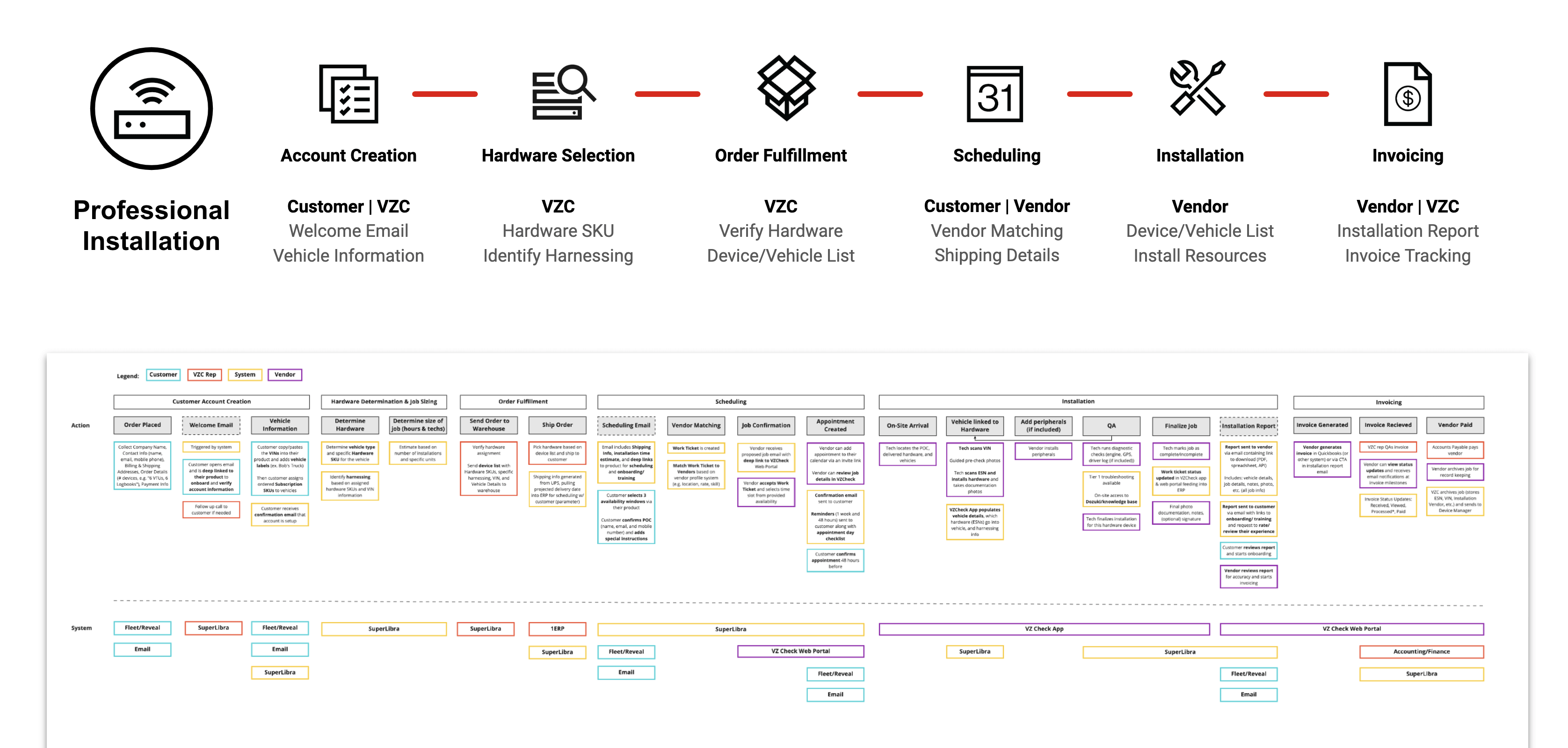 ---
RESULTS
Our work highlighted that in order to increase customer value, we needed to streamline the professional installation process being used by customers, employees, and vendors in order to improve KPI's – VZ Check App Usage, Installation CSAT, Days to Install, Install Time, and Failed Installs.
Based on our efforts, leadership funded an official cross-functional team to address the issues identified during our research and design exploration. This team's mission is to holistically improve the customer experience specific to installation and hardware.
---
VIEW MORE OF MY WORK